Floor Standing Leaflet Holders 8 to 15 Pockets
Floor Standing Leaflet Holders 8 to 15 Pockets, three units to choose from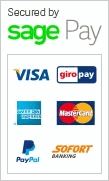 Floor Standing Leaflet Holders 8 to 15 Pockets
These display units are 1980mm tall by 850mm wide made from aluminium in a silver finish. The frame has chrome cables suspended from the top and the display pockets are hung from these cables.
There is a choice of the following formats:
Model FRS101 9 x A5 Acrylic Pockets with 1 x A2 Poster Pocket
Model FRS 105 15 x DL Leaflet Holder with 1 x A2 Poster Pocket
Model FRS110 8 A4 Acrylic Pockets
The frames have twin round flat bases which are weighted for extra stability when in use. They are ideal for estate or travel agent windows and interiors, as well as excellent in corporate reception areas, hotel foyers, tourism information centres, anywhere you need to supply multiple images simultaneously. The unit is very stylish and fits into all kinds of buldings and decors.