Contrast Notebook With Bold Coloured Spine
Contrast Notebook With Bold Coloured Spine, with matching stitching and coordinating closure band, minimum order 50 units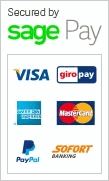 Contrast Notebook With Bold Coloured Spine
The Contrast notebook is available as a medium notebook with cream paper and 240 pages which are 130mm by 210mm.
Contrast is available in five colour combinations, all with a black background on the covers, and a contrasting coloured spine, pen loop and elastic band which holds the note book closed.
The notebook covers are rounded and the ribbon page marker is in the same contrasting colour of blue, red, orange, or two neon colours pink and green.
The Contrast note book can be branded using blind embossing, and it is a very colourful but practical notebook for conferences and events, or as a promotional gift. Prices quoted are for plain unprinted items, we can confirm cost of branding separately.
Pens can be supplied to match the note book, either as plain stock or with branding, just ask for more information.
If you need a conference folder rather than a note book, we can supply a wide range of branded or plain stock leather or imitation leather conference folders in black and many colours. Just ask.